So it was a sunny day, and I'd just finished shift and had to run an errand in Llanberis. This humble hotchpotch of a village was home to me for a number of years. When the twins were born and adventures were restricted, extremely local rock was valuable. Thus begun my search and eventual siege of Moose's Wall. Revisiting the wall today, finding the moss returning, spurred me to do a bit of scrubbing in the hope you folks may enjoy it too.
First discovered by Mike "Moose" Thomas, Matt Anthoine, George Smith et al in the early nineties, this bouldering venue had the big five, appreciable difficulty, clear lines, good height without being deathly, good landing(important in the pre pad days), and short approach(15secs from the car).
However, its relative dificulty combined with height for the pre pad era, meant it dropped out of favour as new venues were discovered. It got forgotten, moss moved in, and it went myth-ing...
Scroll down to 2011, and developments amongst the Bends crags and Clegir boulders dredged Moose's wall back to the collective memory. Needless to say, we couldn't find it, and it was up to the G to show the way in this
BOTM
.
After G remembered how to get there, I popped down and got busy with a brush and secateurs. l found it to be a delightful, if unforgiving crag, being either cracks or crystals and pebbles to gain ascent.
The classic of the crag is The Biggun; a F6B! crack which unlocks via a series of sprags, fingerlocks, and sublime hand jams.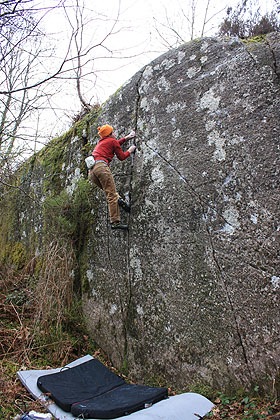 Myself on The Biggun, courtesy of northwalesbouldering.com
Back to 2016, and 5 years later, I don't think the wall has had a lot of traffic. This is a shame, as its a great venue, and The Biggun is proper class. I only had an hour or so, so I concentrated on the Biggun, although it really needs finishing off with a bit of chalk to abrade out the last of the moss. I couldn't resist another drop to unearth Darkside again. It was definitely a highpoint for me at the time as thin wall climbing is by no means my forte. Again, a proper chalk is required to bring into condition.
Nice rounded top out!
The Biggun
Sprags and locks!
The wall is waiting for you.
Enjoy!